Iowa Governor Kim Reynolds Makes 99 County Tour Stop at IGNITE Pathways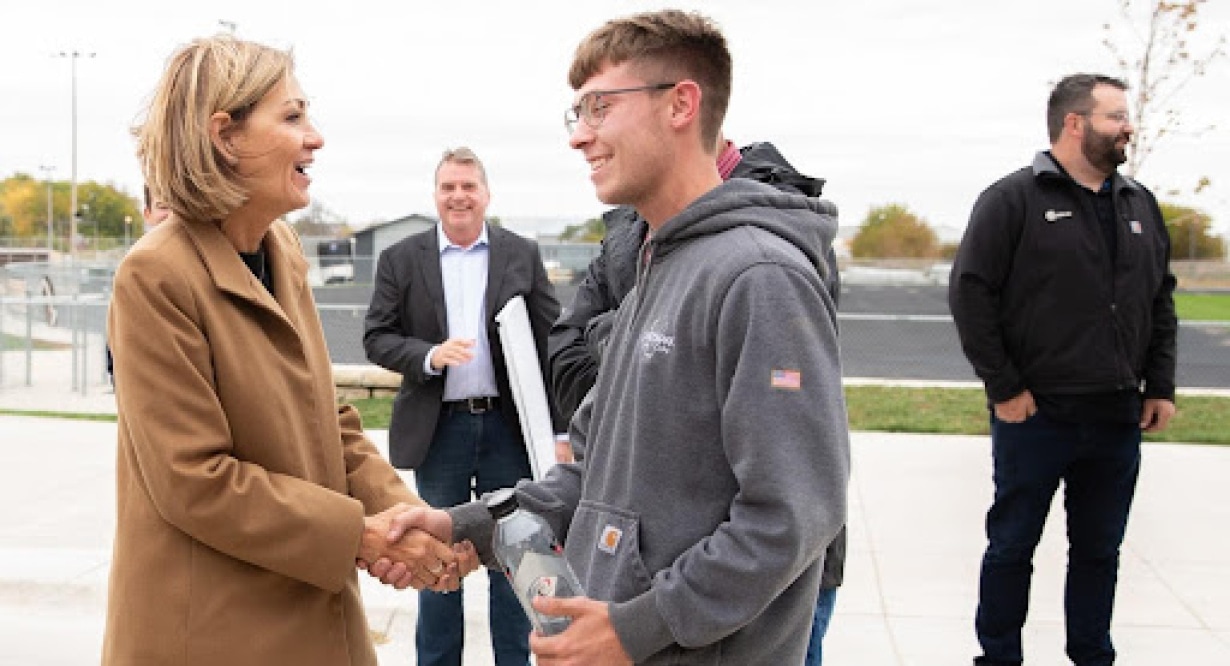 The IGNITE Pathways Career and Technical Education (CTE) Center in Woodbine, Iowa was Harrison County's stop on Governor Kim Reynolds' 99 County Tour. After a tour of the facility, the Governor enjoyed short presentations from IGNITE students and business partners, who shared their experiences with this transformational program and the opportunities it's created.
"For a specific group of students who learn by doing, we believe the educational system has been missing relevance. We set out to create a curriculum to remedy this. The IGNITE Pathways program is a first-of-its-kind program where students can earn all four core academic credits through CTE programs." said Justin Wagner, IGNITE Pathways Superintendent.
"We really wanted to think differently in creating this curriculum and focus on what students needed and wanted. The IGNITE Pathways experience is unique, transformational and has changed how we educate students."
Students in IGNITE Pathways learn trades including Cyber Security, Aviation, Engineering, CNA, construction, HVAC, and welding. These skills can translate into certifications and apprenticeships. Carter Lorenzen, Senior student shared, "Wanting to learn to weld turned into an apprenticeship at Tommy Gate."
"A key difference between the IGNITE Pathways and other programs is that industry leaders with a specific expertise in their area are leading students. This is not a traditional program. We have found this to be a difference maker.", said Wagner.
Commented Terry Oestmann, Senior Welder at Tommy Lift International, Woodbine, "We are really fortunate to have this program and have these students come to Tommy Gate as well."
Randy Vandemark, owner of Vandemark HVAC, Woodbine, another IGNITE business partner said, "IGNITE Pathways excites the kids to learn, gives them an opportunity to experience different trades, and gives them real work experiences." And Randy is providing one of those opportunities, as he currently has an IGNITE student on board as an apprentice.
After hearing the student and business partner presentations, Governor Reynolds commented, "I'm just so excited about what I'm hearing here. This is the kind of innovative pathways we want to see in our schools. I want to look for ways to scale it. It makes a difference."
The Governor also learned about the third and final phase of the IGNITE Pathways vision which includes a 45,000 sq foot, two-story building slated to open in 2023. This final phase will provide expanded educational opportunities for students in the region that will not only allow them to learn and earn but will also address skills gap shortfalls currently being seen across the Midwest.